Main content starts here, tab to start navigating
Catering
HOSTING A PARTY SOON?
Let us cater your next event at your home, office, or the destination of your choice! Our catering menu features favorites from our vibrant and fresh menu to impress your guests including Certified Angus Beef Filet Mignon, Chilean Sea Bass, Broiled Lobster, and Brunch selections too!
Office Luncheons, Family Celebrations, Baby Showers, or Birthday Parties?
Customize your menu for any size occasion starting at 10 people.
We can also provide Wines, Cocktails, and Beers for your event too.
Order Online or call to place your order 305.361.3818
Order must be placed by 12pm the day prior, $200 minimum order amount.
Receive 15% OFF on orders $200 or more!
Promo Code: 15RUSTY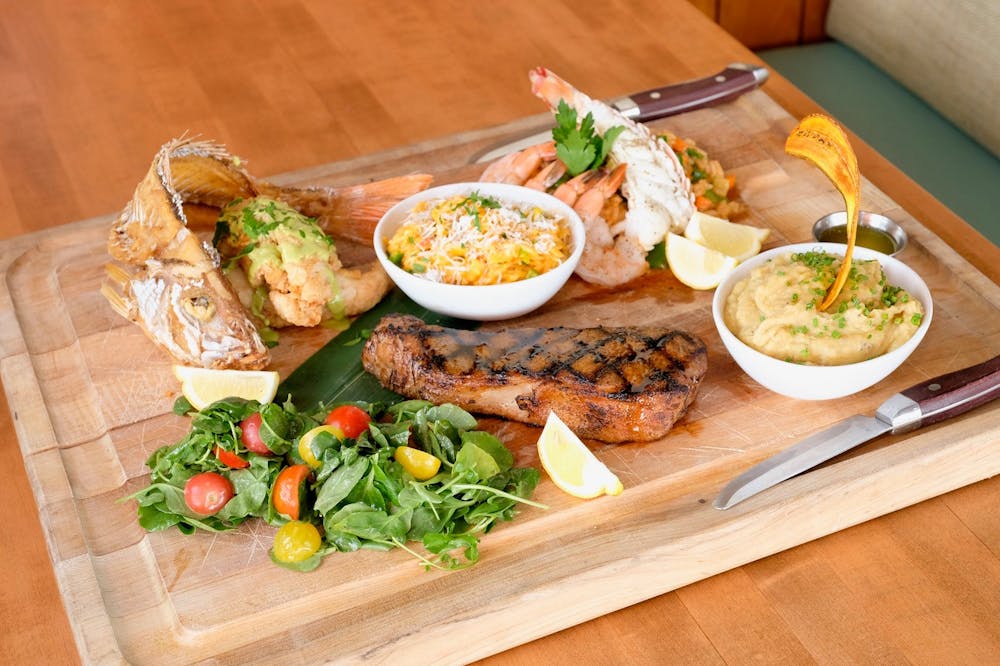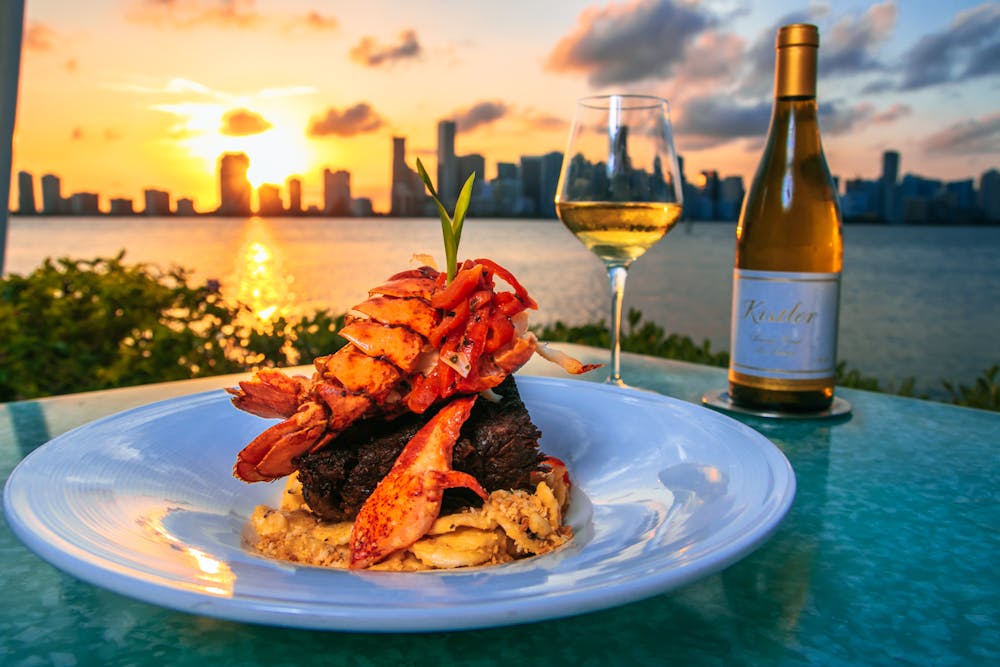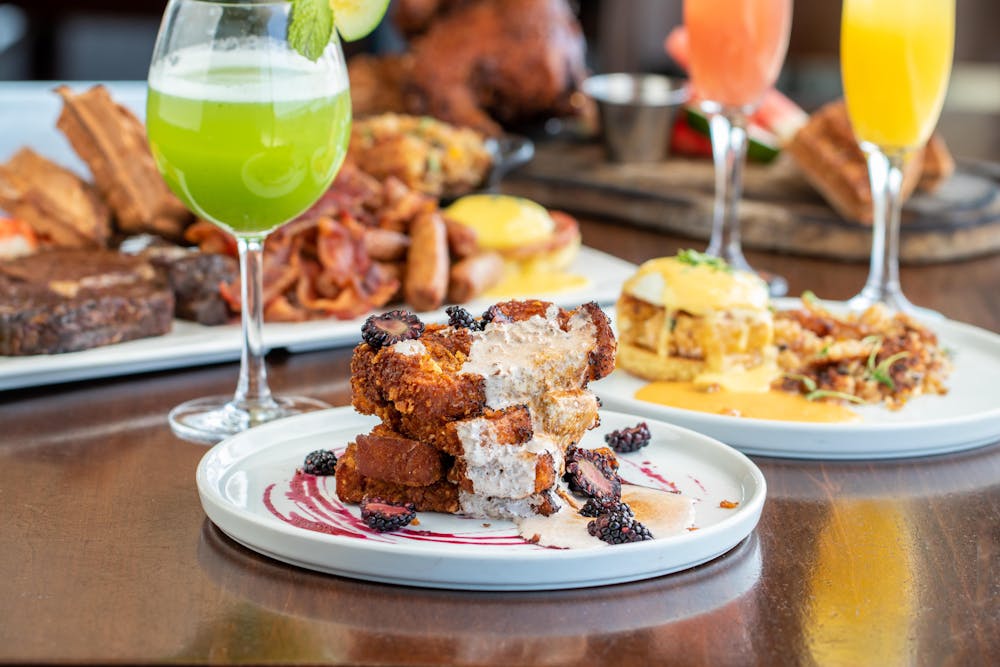 Download PDF
Starters & Salads
Spicy Tuna Roll

Orange and Lemon Avocado Cream, Green Papaya and Mint Slaw, Charred Jalapeño and Ginger Dressing

Small Tray (10-12 servings) $60

Large Tray (26-28 servings) $130

Shrimp Cocktail

Citrus Poached Shrimp, Ancho Chili Cocktail Sauce

Small Tray (10-12 servings) $60

Large Tray (26-28 servings) $130

Snapper Ceviche

Sweet Potato, Choclo, Lime Juice, Aji Amarillo, Onions, Cilantro

Small Tray (10-12 servings) $100

Large Tray (26-28 servings) $220

Short Rib Empanadas

12-Hour Braised Short Rib, Roasted Jalapeno & Sweet Corn Emulsion, Tomato-Vanilla Jam

Small Tray (10-12 servings) $95

Large Tray (26-28 servings) $200

Little Gem Caesar Salad

Shaved Parmesan Cheese, Roasted Garlic Croutons, Crispy Capers

Small Tray (10-12 servings) $60

Large Tray (26-28 servings) $130

Mixed Greens

Seasonal Organic Greens, Avocado, Tomatoes, Smoked Tomato Vinaigrette

Small Tray (10-12 servings) $50

Large Tray (26-28 servings) $105

Cast Iron Cheddar Cheese Corn Bread

Cayenne Honey Glaze, Chili Maple Butter, Chef's Chili Salt

Small Tray (10-12 servings) $35

Large Tray (26-28 servings) $75
Brunch and Lunch
Fried Chicken and Waffle

Buttermilk Chicken, Orange Cinnamon Waffle, Watermelon, Sriracha Maple Syrup

Small Tray (10-12 servings) $140

Large Tray (26-28 servings) $300

Double Dipped French Toast Sticks

Frosted Flake Brioche, Blackberry Syrup, Cinnamon Marshmallow Cream

Small Tray (10-12 servings) $75

Large Tray (26-28 servings) $160

Frittata

Applewood Smoked Bacon or Chicken Apple Sausage, Green Pepper, Onions, Cheddar, Tater Tot Smash

Small Tray (10-12 servings) $135

Large Tray (26-28 servings) $290

Seasonal Veggie Frittata

Tater Tot Smash

Small Tray (10-12 servings) $125

Large Tray (26-28 servings) $260

Salmon BLT Sandwich

Applewood Smoked Bacon, Lettuce, Tomato, Caper-Lime Remoulade, Brioche Bun, Housemade Chips

Small Tray (10-12 servings) $100

Large Tray (26-28 servings) $220

Grilled Chicken Sandwich

Garlic Aioli, Little Gem Lettuce, Tomato, Red Onion, Avocado, Housemade Chips

Small Tray (10-12 servings) $90

Large Tray (26-28 servings) $190
Dinner
Wild Mushroom Cavatappi Pasta

Roasted Wild Mushrooms, Truffle Whipped Ricotta, Basil

Small Tray (10-12 servings) $175

Large Tray (26-28 servings) $370

vegetarian

Broiled Lobster

Chili Glazed Organic Carrots, Crispy Fingerling Potato, Clarified Butter

Small Tray (10-12 servings) $325

Large Tray 26-28 servings $680

Honey Roasted Chicken Breast

Citrus Brined, Grilled Corn, Toasted Corn Bread with Chili Maple Butter

Small Tray (10-12 servings) $200

Large Tray (26-28 servings) $420

Wild Atlantic Salmon

50/50 Mashed, Charred Broccolini, Caper Butter Sauce

Small Tray (10-12 servings) $240

Large Tray (26-28 servings) $500

Chilean Sea Bass

Smoked Sweet Plantain Mash, Grilled Anaheim Peppers, Mango-Papaya Salsa

Small Tray (10-12 servings) $350

Large Tray (26-28 servings) $740

Certified Angus Beef Filet Mignon

50/50 Mashed, Seasonal Vegetables

Small Tray (10-12 servings) $335

Large Tray (26-28 servings) $700
Decadent Desserts
Key Lime Pie

Graham Cracker Crust, Key Lime Custard, Toasted Meringue

Small Tray (10-12 servings) $70

Large Tray (26-28 servings) $150

Sticky Toffee Pudding

Date Cake, Warm Toffee Sauce, Brown Butter Pecans

Small Tray (10-12 servings) $70

Large Tray (26-28 servings) $150

Loaded Double Chocolate Brownie

Caramel Sauce, Chocolate Ganache, Cinnamon Whipped Marshmallow

Small Tray (10-12 servings) $45

Large Tray (26-28 servings) $100
CONSUMER ADVISORY: Consuming raw or undercooked meats, poultry, seafood, shellfish or eggs may increase your risk of foodborne illness especially if you have certain medical conditions. CONSUMER INFORMATION: There is a risk associated with eating raw oysters. If you have chronic illness of the liver, stomach, or blood or have immune disorders you are at greater risk of serious illness from raw oysters and should eat oysters fully cooked.
IF UNSURE OF YOUR RISK CONSULT A PHYSICIAN