Best Side Dishes to Serve with Fish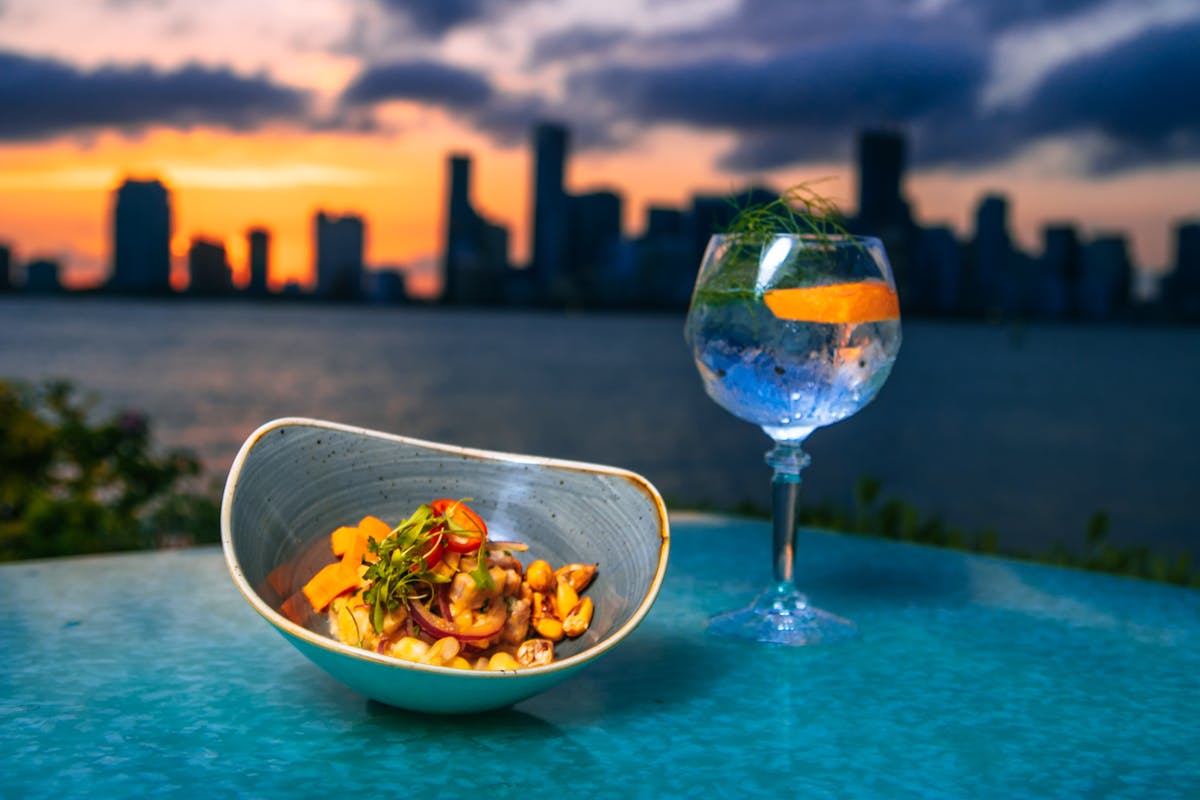 The American Heart Association recommends eating fish at least twice a week to support a healthy diet and lifestyle. There are a variety of delicious side dishes that pair well with all kinds of fish, but salads may be the most versatile of all. The Rusty Pelican serves several unique salads that make the perfect sides for fish, whether you order sea bass, salmon, or snapper.
When ordering your Atlantic Salmon or Crispy Whole Local Snapper, pair your entrée with one of our mouth-watering sides for fish. No matter which side dish for fish you choose, you can be certain that it's made fresh by our chefs in-house. Here are some side dishes to try the next time you visit The Rusty Pelican.
Caviar & Black Truffle Twice-Baked Potato
Elegant and delicious, the Caviar & Black Truffle Twice-Baked Potato looks just as amazing as it tastes. As a side for fish, it consists of a flavorful blend of mashed potatoes and black truffles, topped with a generous dollop of savory bowfin caviar. To top off this perfect side dish for fish, the chef adds a drizzle of vodka Crème Fraiche. Each bite is filled with a savory, salty flavor that pairs perfectly with a mild fish like salmon.
Pair your Caviar & Black Truffle Twice-Baked Potato with any of our fresh seafood entrees for a delicious meal at The Rusty Pelican, and you won't have anything left to put in a to-go box.
Truffle Creamed Corn
Sweet, savory, delicious, and healthy, our Truffle Creamed Corn is the perfect side for fish. Made with sweet yellow corn and topped with black truffle shavings, its flavor profile complements fish of all kinds, including sea bass, snapper, and salmon. Pair it with a seafood entree of your choice, or share it with someone special alongside the Arroz Meloso For Two.
The Truffle Creamed Corn is mild and easily complements just about any entree at The Rusty Pelican.
Roasted Spring Vegetables
Simple, bright, and delicious, our Roasted Spring Vegetables pair perfectly with most entrees, but they shine alongside fish. Lemon pickled tricolor carrots, creamy fava beans, and sweet grilled corn are roasted to perfection and served in generous portions with entrees like our Lobster and Shrimp Risotto or Chilean Sea Bass. The flavor combination of the tart lemon pickled carrots, nutty fava beans, and sweet corn provides an interesting flavor profile to accompany a mild fish like salmon.
Each serving of Roasted Spring Vegetables is packed with fiber, vitamins, and minerals and tastes simply divine.
50/50 Mashed Potatoes
You can never go wrong with choosing potatoes as a side for fish. Our 50/50 Mashed Potatoes are an elevated concept developed by our chefs. Creamy Yukon Gold potatoes are mixed generously with butter and cream and topped with a bright sprinkle of chives. To finish this side for fish, each serving is topped with a whimsical sprinkle of crispy potato hay.
Order 50/50 Mashed Potatoes alongside any seafood dish at The Rusty Pelican.
Grilled Broccoli and Broccolini
Puréed broccoli and a garlic confit add a warm depth of flavor to our Grilled Broccoli and Broccolini. With a healthy dose of fiber, iron, and several vitamins, this side for fish is healthy and tastes positively divine. Sprinkled with a dash of chili flakes, it's got a hint of heat that pairs perfectly with any seafood dish.
Order the Grilled Broccoli and Broccolini with your fish entree for a healthy and delicious meal at The Rusty Pelican.
Rusty Fries
Classic, flavorful, and mouth-wateringly delicious, our Rusty Fries are an excellent side for fish. Each serving is topped with fresh parmesan cheese, rosemary, and parsley, for a pop of color and loads of flavor. Order a side of Rusty Fries to pair with your fish entree or share with friends at happy hour. They also pair perfectly with one of our signature cocktails like Spruce Willis or Love Child.
Order the Rusty Fries as an appetizer, or pair them with your favorite seafood dish for a complete meal.
Classic Caesar Salad
Classic, delicious, and perfectly paired with fish of all kinds, the Caesar salad combines a variety of flavors and textures into one bowl. Our Classic Caesar Salad consists of freshly shaved parmesan cheese, crunchy garlic roasted croutons, and crisp, savory capers. Together, these ingredients are hand tossed with crisp romaine lettuce and Caesar dressing. Each salad is fresh, bright, and hand-tossed for the perfect flavor combination.
Created in 1924 by Caesar Cardini, an Italian immigrant to the United States, the Caesar salad continues to be a favorite side dish, and it's no surprise. Simple, fresh ingredients paired with a delicious Caesar dressing make it a lovely pairing for just about any main course and an excellent side for fish.
Pair your Classic Caesar Salad with our Chilean Sea Bass the next time you visit The Rusty Pelican.
Smoked Tomato Salad
For a unique flavor combination, try The Rusty Pelican's Smoked Tomato Salad. This side for fish packs a punch with added protein and extra vegetables, so you can be certain that you're eating something that's both nutritious and flavorful.
This side salad will pair perfectly with any fish entree with its savory ingredients like heirloom tomatoes and goat cheese. The toasted quinoa adds extra protein, texture, and depth of flavor. It's also packed with healthy vegetables like cucumbers, pickled shallots, and organic greens that provide added fiber and essential vitamins to fuel your body.
Tossed in a smoked tomato vinaigrette, the Smoked Tomato Salad pairs perfectly with fish entrees like the Crispy Whole Local Snapper or the Atlantic Salmon. With the addition of toasted quinoa, this side salad can also be enjoyed alone as a lunch entree.
Burrata & Tomato Salad
The Burrata & Tomato Salad perfectly balances sweet and savory flavors to delight your taste buds and satisfy your cravings. Smoked peaches add a hint of sweetness, while pickled fennel provides a delightfully sour reprieve. Toasted pistachios bring a nutty crunch to this salad in addition to the health benefits of added fiber and healthy fats.
Tossed in dark, velvety mache leaves that have a uniquely sweet flavor, the Burrata & Tomato Salad tastes as delicious as it looks. The balsamic honey emulsion brings each ingredient's unique flavors together to create a side for fish that's perfectly balanced, compelling you to reach for another bite.
For this delicious salad, we sprinkle soft burrata cheese to add an extra layer of flavor and beauty. This salad is delightfully interesting and complex, with soft cheese, crunchy pistachios, sweet peaches, and pickled fennel. Making it a perfect side dish for fish.
Pair your Burrata & Tomato Salad with any of The Rusty Pelican's seafood dishes, like the Chilean Sea Bass or the Lobster and Shrimp Risotto.
Enjoy the Best Seafood in Miami!
Enjoy a unique culinary experience when you make a reservation at The Rusty Pelican. Step into our plantation-style building and select a seat that overlooks the Miami skyline while you dine in. Our innovative chef creates one-of-a-kind seafood entrees that can be shared under the market lights. Pair your seafood dinner with a bottle of wine, and sway to the sounds of the music in the lounge.
Check out our extensive menu that offers a little of everything, including fresh seafood, artistically presented sushi, seared steak, and roasted chicken. Pair your dinner with the right side salad, and ask our mixologist to make you the perfect drink.
Our friendly staff is committed to providing each customer with a fun atmosphere, delicious food, and the best service in town. Make a reservation to visit The Rusty Pelican and experience the best seafood in Miami.
Featured Image: The Rusty Pelican Miami