Best Side Dish Recipes to Serve With Scallops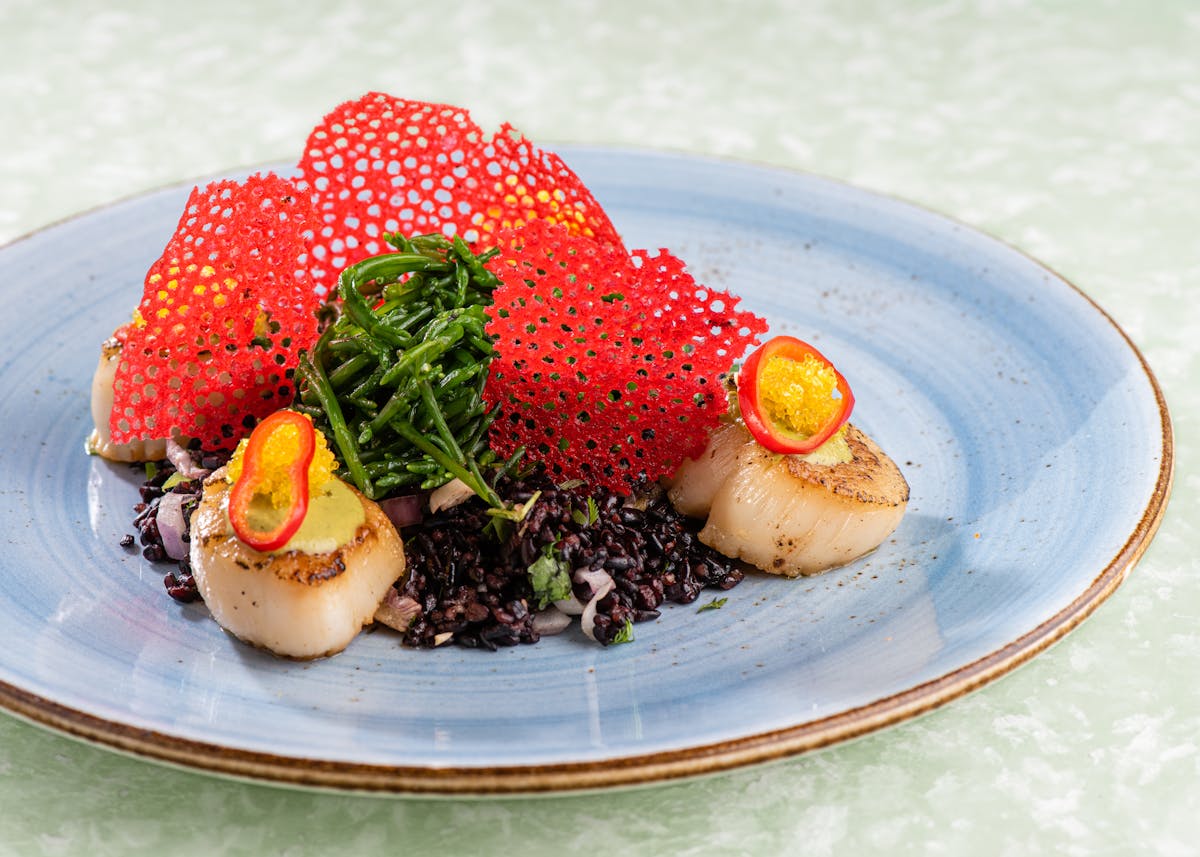 Scallops are unquestionably a seafood dish that most serve because they are an amazing delicacy with a unique texture. Subtle as their flavors are characterized by sweetness, buttery, and nutty that aim at providing an ideal balance in the meal. Such a balance makes scallops a perfect pair for almost all menus.
However, exercising caution when pairing scallops with spicy flavors is crucial to avoid overshadowing your meal but instead make them stand out. You don't need to worry about your pairing technique because your taste and preferences will always play a role. We have developed a variety of options to help you enjoy your scallop feast.
What You Should Know About Scallops
Scallops are classified as bivalve mollusks, meaning they have two shells, similar to clams, oysters, and mussel shells, and an internal muscle. They form part of the edible ocean shell in many different types. The most popular scallops in this situation are sea and bay scallops. Sea scallops are larger and accessible all year round, unlike bay scallops, which are only in season from October to March.
A well-prepared scallop gives a dinner a soft, buttery flavor, healthful nutrients, and vitamin B. Always go for fresh scallops to experience their amazing flavor and taste. You may prepare a wonderful scallop in various ways if you don't overcook them. For instance, you can grill, cook, or even broil scallops and know your meal will be done in a few minutes.
Just like you can prepare scallops using numerous methods, there are also a variety of sides for scallops. If you're not sure, read on to get some ideas.
The Best Sides to Serve With Scallops
For a wonderful scallop dish experience, here are some of the delicious combinations you should consider:
Potatoes Side Dish
You may not be aware that a potatoes side dish is among the best meals to serve with scallops. It doesn't matter whether you prefer a caviar & black truffle twice-baked potato, Caviar Frites, 50/50 mashed, or goat cheese Peruvian potatoes; they will all add an extra creaminess to your scallop meal. These creamy and rich potato side dishes perfectly accompany your scallop. Our menu entails the following:
Caviar and black truffle twice-baked potato: This side dish provides an elegant way to serve a special dinner.

50/50 mashed: It's a side dish that helps improve your body's vitamins and minerals, especially when paired with scallops.

Goat cheese Peruvian potatoes: The potatoes are merely boiled, but they have a perfect amount of spiciness, making them creamy and smooth.
Roasted or Grilled Vegetables
If you are looking for a simple way to make the most extraordinary meal, try roasted spring vegetables or grilled broccoli with your scallop dish. These dishes give a flavorful and tastiest pair with scallops. The savory vegetables nicely offset the sweetness of the scallops. Furthermore, since grilling or roasting vegetables is quite simple, you should do it for 30 minutes before searing the scallops.
Crispy Brussels Sprouts
Scallops go well with Crispy Brussels sprouts because of their nutty flavor. It takes less than 25 minutes to prepare the whole meal and get the fantastic taste. Brussels sprouts recipes combine the sprouts with pancetta, scallops, and a lemon sauce dressing. Try pairing Crispy Brussels sprouts with white wine if you want a simple and exquisite dinner that tastes just amazing. Crispy Brussels sprouts are the real deal.
Refreshing Salads
Seared scallops with a side of refreshing salads or pomegranate salads offer a gourmet meal that is good for every occasion. Since salads are light and refreshing, it is an excellent complement to scallops, particularly during summer. If you are in doubt, try Classic Caesar salad, smoked tomato salad, burrata & tomato. Generally, refreshing salads add flavor to your scallop meal to give you a better taste.
Truffle Creamed Corn
Seared scallops flavored with truffle creamed corn results in a magnificent meal for you and your loved ones. The delicacy of the scallops is highlighted by the truffle creamed corn, while the mildly spicy poblanos and cilantro provide the contrast.
Owing to how simple it is to prepare, this summer dish is ideal for every event and is equally deserving of a weekend supper with your dearest friends. Pour a few glasses of crisp, cold white wine and toast to a good company while serving it with some small, boiled potatoes coated in butter, parsley, and salt.
Rice and Quinoa
Scallops combine well with forbidden fried rice since protein and carbs are excellent for your body. But a flavorful chicken rice pilaf is also a good option if you want some starchy rice with your scallop. Make sure you get the proper consistency as you intend to cook this recipe. Another better option is simple steamed white rice flavored with star anise, butter, cloves, and cardamom. Quinoa is another nutritious option. You might try cooking the nutty quinoa in a thick and flavorful garlic lemon butter sauce and serving it with scallops.
Steak
Meaty steak, along with scallops, will make a mouthwatering meal not only for you but also for your friends and family as well. It doesn't have to be a flavored steak; even a simple salt and pepper route or the spicy Cajun seasoning will still taste insanely amazing with seared scallops. Here are some of our most preferred steak options:
Filet mignon: The softest beef cut available doesn't require elaborate seasoning. You don't need anything else to make a tasty streak with your scallop, just some freshly cracked pepper.

Ribeye steak: Scallops go well with ribeye steak since it is flavorful and suitable for the occasion.

New York strip reserve: It is a steak of exceptional quality, firmness, a short grain texture, and flavor.

Prime skirt steak: If you want enough flavor and richness, prime skirt steak is the best choice.
Enjoy The Best & Freshest Scallops in Florida
Rusty Pelican has exciting things in store for you and is the place to visit if you are looking for a perfect side for your scallop dish. We offer more than simply creative cuisine; and also host exciting outdoor events against the backdrop of the dazzling Miami skyline, calming water, and upbeat music. You can also make a reservation and have a fantastic experience.