Easy and Delicious Caviar Frites Recipe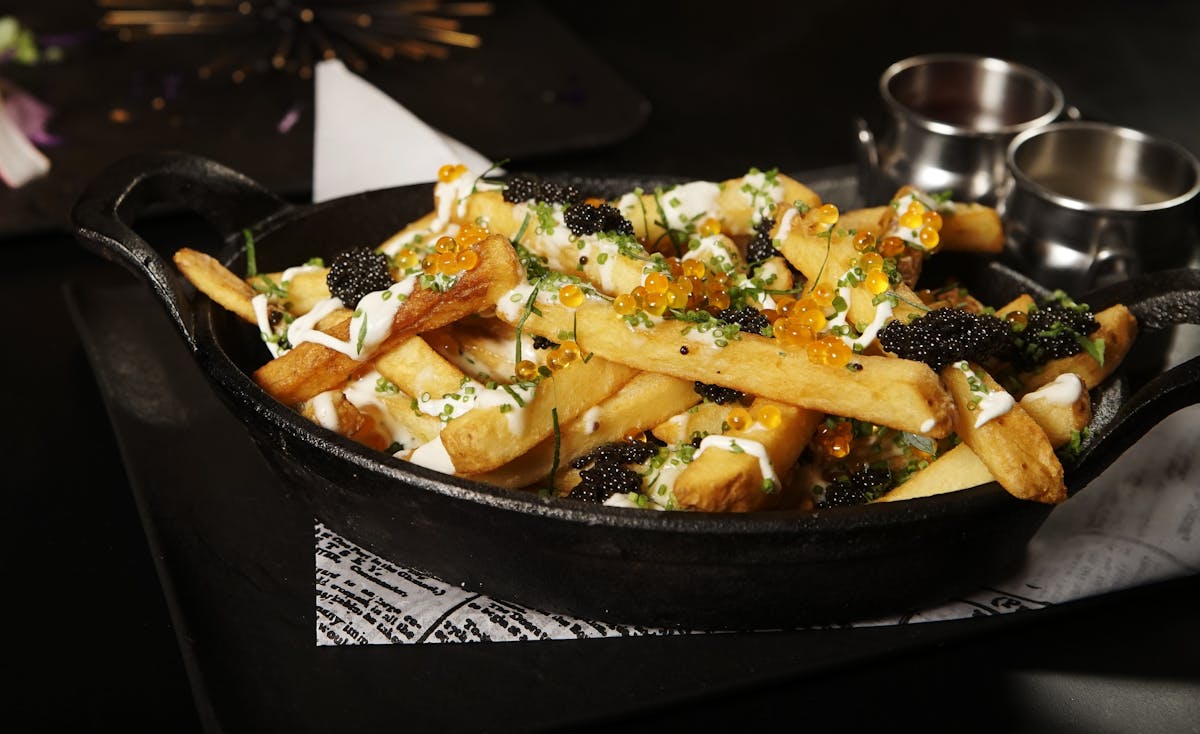 Caviar Frites puts a seafood spin on the classic French dish known as steak frites (steak and fries). Despite its seemingly simple list of ingredients, this dish delivers unforgettable flavor to any seafood enthusiast.
Whether preparing your next family dinner or friendly gathering, making the best dishes well is key. Rusty Pelican takes the effort and stresses out of seafood preparation with a menu of delicious dishes ranging from raw seafood to perfectly cooked steak. Keep reading to learn more about how to make Caviar Frites, the ultimate seafood appetizer, directly from the Florida seafood experts.
What are Caviar Frites?
In French, "frites" translates to (French) "fries." And although you might not think of French fries as a gourmet dish, in this dish, they get a serious upgrade with the addition of high-quality caviar and creme fraiche.
Are Caviar Frites Good?
Yes! If you have an appreciation for the complex, layered flavors of caviar, you're bound to enjoy this delightful appetizer. The saltiness of the French fries is flawlessly balanced by the light, creamy taste of creme fraiche so that the caviar can be the highlight of the dish.
How Do You Make Caviar Frites?
Perfectly crispy French fries are topped with generous dollops of creme fraiche and a drizzle of freshly-squeezed lemon juice. Then, the star ingredient is added: caviar.
There isn't necessarily a recipe for caviar frites; instead, it all comes down to the quality of ingredients that you use.
Want to know the secret to enjoying the best caviar frites? Here it is: although you could attempt to make caviar frites at home, your best bet is to find the dish at a fantastic seafood restaurant. There, you can be confident that you'll be treated to the ultimate in premium caviar and that every detail of the dish will be prepared to perfection.
Where to Find the Best Caviar in Key Biscayne
Searching for restaurants that serve caviar in the Key Biscayne area? At The Rusty Pelican, we've crafted signature caviar dishes unlike any you'll find anywhere else. Our menu is the best of both worlds: fine seafood and classic comfort foods elevated with exceptional ingredients and flavors.
If learning about caviar frites has inspired a new craving for this delectable dish, you're in luck - because our caviar frites have earned countless rave reviews. We start with Petrossian caviar, sourced from a Paris-based brand with nearly a century-long history of excellence. On a base of crispy Yukon Gold fries, we serve the caviar with a vodka creme fraiche and a side of homemade ranch dressing for dipping. Like each and every one of our seafood dishes, our caviar frites exceed expectations in terms of quality, flavor, and creativity.
Or, try our caviar and black truffle twice-baked potato: bowfin caviar and truffle mash are topped with our vodka creme fraiche for a decadent side dish to any entree.
Unforgettable Seafood is Made With The Freshest Ingredients
The best seafood dishes in Miami are made with care and excellence at Rusty Pelican in Key Biscayne. Aside from deliciously fresh Caviar Frites, our dishes are only made with fresh ingredients and take the effort out of delicious seafood meals.
Instead of stressing over seafood recipes, Rusty Pelican welcomes you to join us for your next brunch, lunch, dinner, or happy hour in Miami and taste the best of Florida seafood.
Try Caviar Frites at The Rusty Pelican
Whether you're a Key Biscayne local or just visiting, experiencing The Rusty Pelican is a must. With a diverse menu featuring a curated selection of premium seafood, we're proud to be one of the favorite seafood restaurants in Miami.
Explore our menu to find your favorites, or contact us today!
Featured Image: Rusty Pelican Miami