Event Space in Miami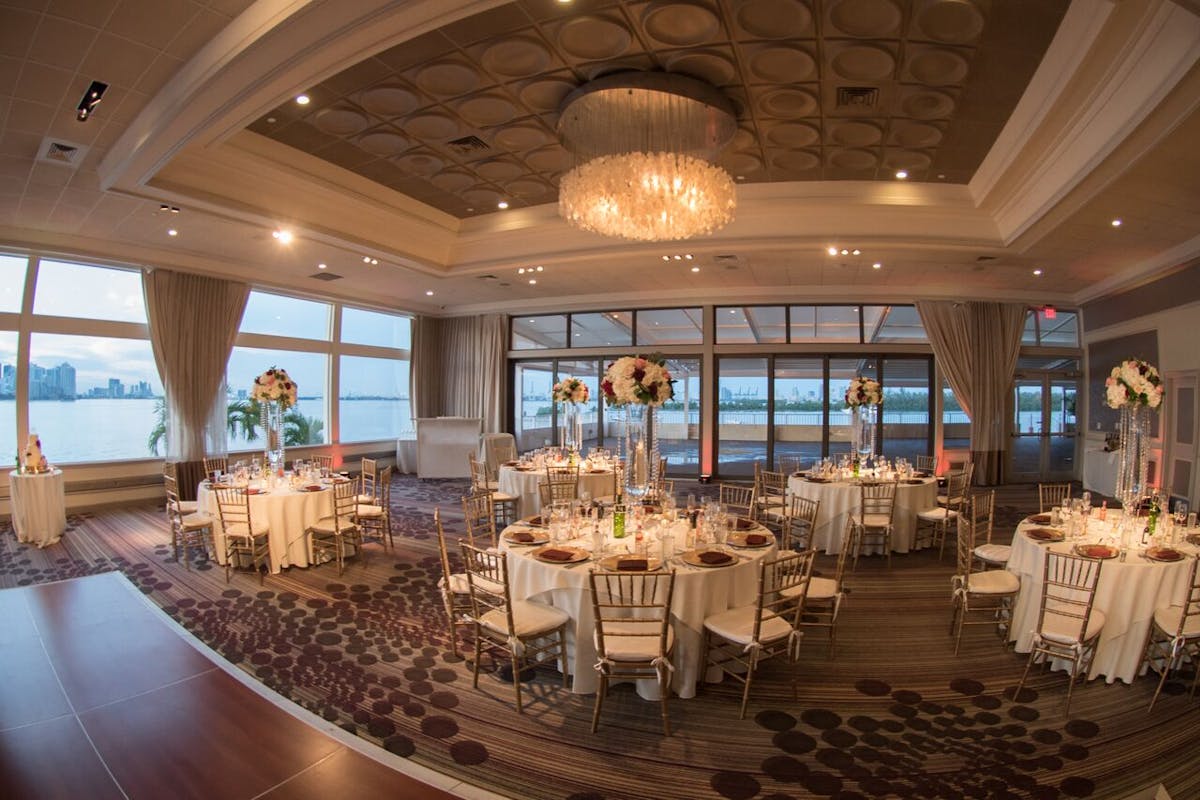 Whether you want to host a private event, wedding, birthday, anniversary, or any other type of meeting, every perfect event starts with the perfect venue.
The city of Miami, widely regarded for its rich culture, is a popular spot for visitors, corporates, retirees, and anyone seeking fun in the sun with a twist! Miami has many unique event locations and rental halls because of its fantastic weather and abundance of delectable foods.
There is something for everyone in Miami, from galleries, lofts, and warehouses to banquet halls, rooftop bars, and conference facilities. The Rusty Pelican holds some of the most breathtaking ocean and cityscape views.
Types of Events in Miami
Some of the most common events in Miami include:
Corporate Events Miami
Corporate events are a great way for businesses to interact with their employees and customers. Miami's most common corporate events include employee engagement workshops, talks, networking events, conferences, and team-building activities. Getting an event location that aligns with your budget, goals, and audience is crucial to attaining event success.
Small and Large Parties
Another common event in Miami is small parties, which include corporate parties and other forms of professional gatherings and private parties. Small parties that are classy and tasteful will enjoy the exquisitely designed event spaces in Miami.
Miami Wedding Venues
Weddings are the party that precludes a marriage. A time for family and friends to get together and celebrate two families coming together in a marriage.
Our Special Event Spaces in Miami
The Rusty Pelican offers a variety of special event spaces. Some of our elegant indoor and outdoor waterfront spaces include:
Grand Ballroom
The Grand Rusty Pelican Ballroom, our largest ballroom, has a beautiful seaside view and ample space. This room has a full kitchen and bridal suite access. With a capacity of 800, you won't have to worry about space constraints.
Biscayne Room
The Biscayne Room has plenty of space and a great view of the water. With spectacular views from the spacious terrace for visitors to mingle, this space is great for large events. The Biscayne room can accommodate up to 400 guests.
Pelican Room
The Pelican Ballroom, with a capacity of 180, has a separate foyer for cocktails and plenty of area for a full-service bar, making it ideal for sophisticated and grandiose events. With breathtaking views of the Miami skyline, an event in the Pelican Room is nothing short of magnificent. The Pelican room also has a bridal suite on site.
Coral Room
The Coral Room is more compact, with seating for up to 45 guests. With a picturesque ocean view, it is more suitable for smaller or more intimate events.
Vista Terrace
With an event on the Vista Terrace, you can enjoy the wonderful ocean wind that only Miami can provide. The Vista Terrace offers a spectacular outdoor Miami experience, with unrivaled skyline views right on the crystal blue ocean.
Schedule Your ­Virtual Site Tour
The Rusty Pelican is currently open for on-site tours and provides an option for virtual site tours. Take an immersive tour of our spaces today from the comfort of your home. Our virtual tours also include Matterport 3D tours.
Book Your Event on the Miami Waterfront With Us Today!
The Rusty Pelican is one of Miami's most sought-after event venues. The Rusty Pelican provides ballrooms and event facilities for any occasion, from corporate events to private parties and even spectacular weddings.
Make a lasting impact on your guests by making your event one to remember. Guests will enjoy an occasion of cool sophistication with amazing waterfront views of Miami surrounded by spectacular floor-to-ceiling glass windows, modern and fashionable décor, tufted and exquisite furniture, and opulent chandeliers and light fixtures. Book your event with us today!