The Best Wine to Pair with Oysters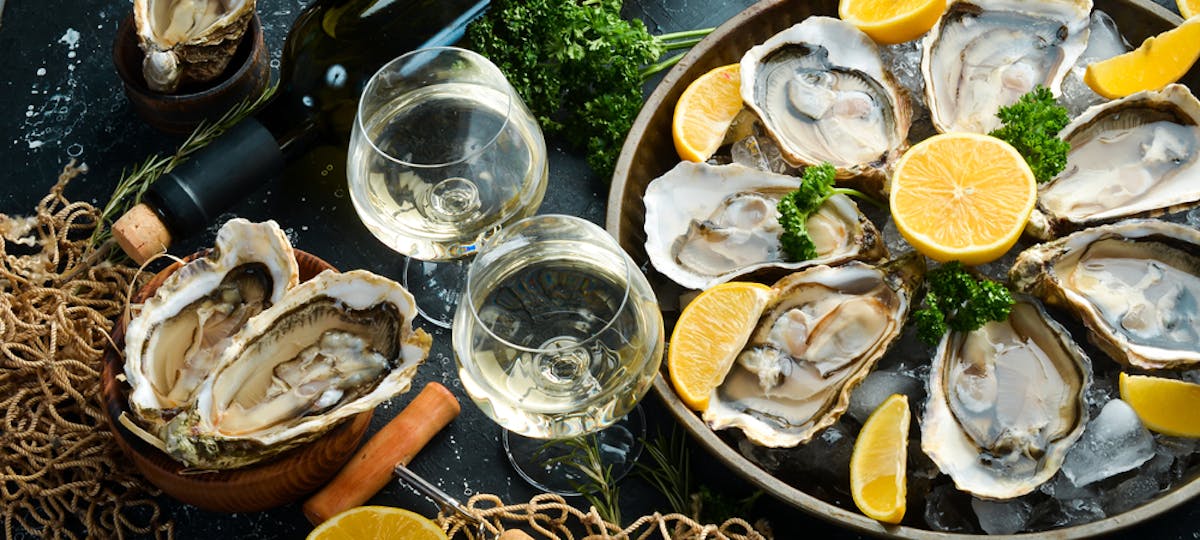 Oyster is one of the few foods in the globe that is well-known for its salty, buttery flavor. Meaty, briny, fruity, or delicate are all words that come to mind when describing these bi-valves. All these tasting notes illustrate how this seafood is delicious. If you enjoy the seafood dish and appreciate its acquired flavor, you'll understand why wine pairing with oysters is necessary.
Oyster Wine Pairing
Regarding oyster wine pairings, there are several excellent options to consider. Which one you choose will be determined by your preferred beverage. However, unfavorable oyster wine pairing may result in losing the oyster's delicate flavor or even a metallic aftertaste. To help you avoid these mishaps, we've put together a specific guide to give you the best wine with oysters.
Knowing the best wine with oysters makes you look like a food enthusiast and allows you to relish having dinner with your guest or loved ones for some delectable shellfish. Rusty Pelican is the place to be if you're an oyster connoisseur seeking just the perfect beverage to go with your seafood. Take a look at some of our choices below.
Chablis
Chablis is at the top of the list because it has various characteristics that make it one of the best oyster wines. Chablis, for example, is composed entirely of Chardonnay grapes grown in the colder Burgundy area of France. The soil in which the grapes are cultivated comprises old sea fossils, including oyster shells. Chablis has a distinct set of taste notes, from subtle minerality to strong acidity. It goes well with fried oysters and creamy sauces.
Pinot Grigio
A classic Pinot Grigio will complement your tasty seafood with a dry, acidic edge. You can go for a superb pairing with any oyster by choosing Pinot Grigio's lemon. The wine is a Northern Italian grape variety. Although it is a widely consumed wine worldwide, you should always be cautious when selecting one to guarantee that you have the best wine with a fruity and floral aroma to match your oyster cuisine. It's preferable to keep track of where the producer manufactured the wine. Classic Italian vineyards such as Veneto, Lombardy, Friuli, and Trentino, are well-known for producing delicious wines.
Albarino
Albarino is a Spanish wine with a lot of citrus zing and a bit of zip that goes great with oysters. When it comes to oysters with Albarino, the wine's wide spectrum of expression makes it an outstanding choice, allowing you to have a match with a little more substance rather than a pair with a really thin body.
Albarino can handle the saltiness of oysters without overriding your seafood dish with minerality. When you've honed your pairing skills, you can go on to the richer-style Albarino, which is known for providing a memorable experience. With a huge, thick, oily Albarino and greasy salted oyster, it's definitely a full meal dish.
Sancerre
Sancerre is another exceptional French wine made from Sauvignon Blanc grapes, which are famed for their bright fruit. It comes from an ancient sea bed. Sancerre is a non-wilted wine that has a fresh aroma with notes of spice. This wine is a good choice for oysters. It has a mineral flavor and a clear focus comparable to Chablis and Sauvignon blanc varietals. Don't miss out on sipping a delicious wine while eating a selection of oysters with mignonette sauce. Try the 2014 Domaine Hippolyte Reverdy Sancerre for a memorable experience.
Fino Sherry
Fino sherry is a Spanish coastal wine made mostly around Jerez de Frontera, which brings a pleasant sea breeze to the Palomino grapes used to create this wine. Fino sherry is an incredible and ideal pick for oysters if you prefer a dry and pale wine. It's a fantastic pair with the oyster's salt brine and earthy tones.
Chardonnay
While Chardonnay isn't the ultimate pick for raw oysters, it's the best wine with smoked or cooked oysters, especially in a creamy chowder. Always choose gently oaked and creamy wines, such as those found in Burgundy Limoux in southern France.
Sauvignon Blanc
If you want a spectacular dining experience, pair your delectable seafood with a cool Sauvignon Blanc. This delightful white wine, known as a hallmark pair, will go perfectly with your oyster dinner. You can try a 2017 Monte Xanic Sauvignon Blanc, an exquisite wine from a winery in the Valle de Guadalupe of Mexico that has been producing wines since the late 1980s. A fruity Holy Snail Sauvignon Blanc is also another great match.
Fresh Seafood in Miami
The Rusty Pelican is an ideal place to get the delicious feel of Miami. We're right on the Rickenbacker Marina, eager to present you around Miami's waterfront. The Rusty Pelican has it all, from fresh, locally sourced seafood to unique drinks and superbly cooked steak. We invite you to explore our contemporary American seafood-forward dishes, fascinated by the Florida coast's bounty. We have an incredible wall of wines with over a thousand varietals to pair from if you wish to have a perfect moment with the oyster and wine pairs mentioned above.
Enjoy Perfect Oyster & Wine Pairings on the Miami Waterfront
If you like oysters, the Rusty Pelican is the place to visit. Our main priority is to help you with your cuisine adventure by guaranteeing that you get the best oyster and wine pairing on the Miami waterfront. Feel free to book a table at one of Miami's greatest waterfront restaurants for you and your loved ones. Contact us for more information about our business.
Featured Image: YARUNIV Studio / Shutterstock