The Ups and Downs of Stone Crab Season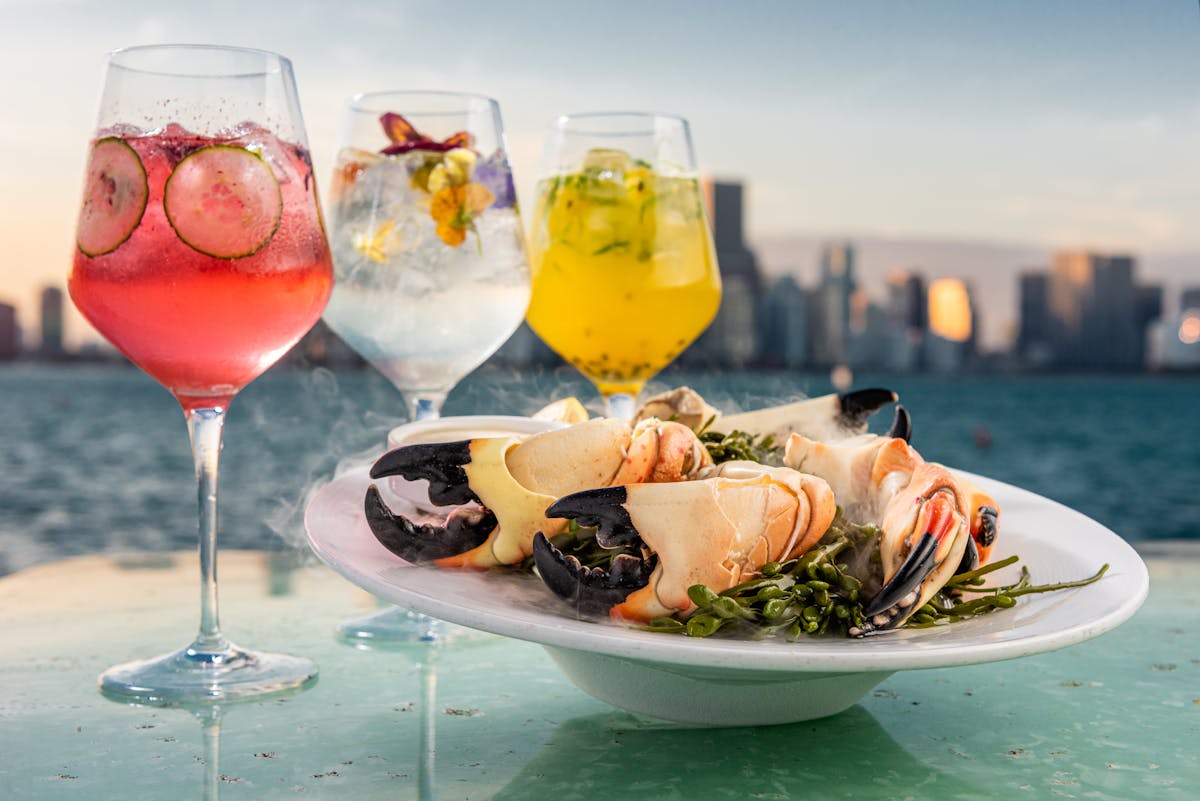 Stone crabs are one of Florida's most delicious delicacies, and they're caught right here, off the Miami coast. Patrons visit the Rusty Pelican to indulge in their sweet, flaky meat, and we do our best to keep a steady supply of stone crabs in our restaurant's kitchen. Several factors determine whether we've got a fresh supply in-house, and many rules and regulations are set in place to ensure that they're harvested responsibly.
Stone Crab Seasons Vary Coast-to-Coast
Stone crabs are served best the day they are caught, making supply and demand a tricky process across the globe. Since we rely on local fishers to supply stone crabs to the Rusty Pelican in Miami, our supply depends on the number of stone crabs that can be harvested on any given day. We refuse to compromise on responsible and sustainable fishing practices, so our supply fluctuates with the season.
Florida Stone Crab Season
In Florida, stone crab season officially begins on October 15th and ends on May 1st. While they're in season, stone crabs are abundant, and it's easy for fishers to keep the restaurant fully stocked with fresh, delicious stone crabs.
During the off-season, they are caught along the Pacific coast. In Florida, the Florida Fish and Wildlife Conservation Commission regulates the number of stone crabs that can be harvested, so the species continues to thrive.
HOW ARE STONE CRABS COLLECTED?
Not only is the collection of stone crabs regulated, but it's actually illegal to harvest them outside the official stone crab season in Florida. Strict guidelines must be followed to ensure they are being harvested ethically and with sustainability in mind. Our fishers carefully follow each guideline by using baited traps to collect stone crabs for the Rusty Pelican.
RULES & REGULATIONS ABOUT COLLECTING STONE CRABS
In Florida, fishers must follow many rules and regulations to harvest the claws from stone crabs when they're in season. It is illegal to harvest, sell, or even possess claws outside of stone crab season. Commercial fishers are also required to set no more than 100 traps at a time to regulate the number of stone crabs harvested at a time. Recreational fishers are limited to only five traps at a time, and spears, hooks, and grabs are prohibited.
Other rules include:
Egg-bearing crabs are off-limits. Their orange or brown egg sacs can be seen on the underside of the crab's body.

Traps can be placed ten days before the season begins and must be removed five days after it ends.

Fishers over 16 must have a saltwater fishing license, and their registration number must be visible on each trap.
THE STONE CRAB'S CRUSHER CLAW
A stone crab's crusher claw is very large, very powerful, and full of delicate white meat. Its crusher claw can exert almost 19,000 pounds of pressure, which works tremendously well for crushing the shells of snails and clams at feeding time.
Carefully, the claw is broken off, and the crab is released back into the ocean. If removed correctly, the stone crab's claw will regenerate and will be large enough to harvest again in three years. These crustaceans can release and regenerate their claws as a natural defense strategy to fend off predators.
STONE CRAB CLAW SIZE
To be harvested, regulations require that a stone crab's crusher claw must be at least 2 7/8 inches in length from the joint of the elbow to the tip of the propodus. Even if both claws are long enough, harvesters only remove one claw at a time, ensuring that the crab still has a way to defend itself in the wild. If removed incorrectly, a stone crab's claw won't regenerate, so it is absolutely imperative that an expert must remove the claw properly.
Enjoy Fresh Stone Crab on the Miami Waterfront Today!
At the Rusty Pelican, we serve Florida's finest, freshest stone crabs. We offer a menu packed with fresh seafood and handcrafted cocktails served with a side of friendliness and fun. Stop by our bar and lounge to enjoy dinner with a view of the city's skyline, and stay for drinks around the firepit. We also offer event space for parties of up to 450 guests. If you'd like to learn more about hosting an event or reserving a table at the Rusty Pelican, contact us today.
Featured Image: Rusty Pelican Miami