Waterfront Dining in Miami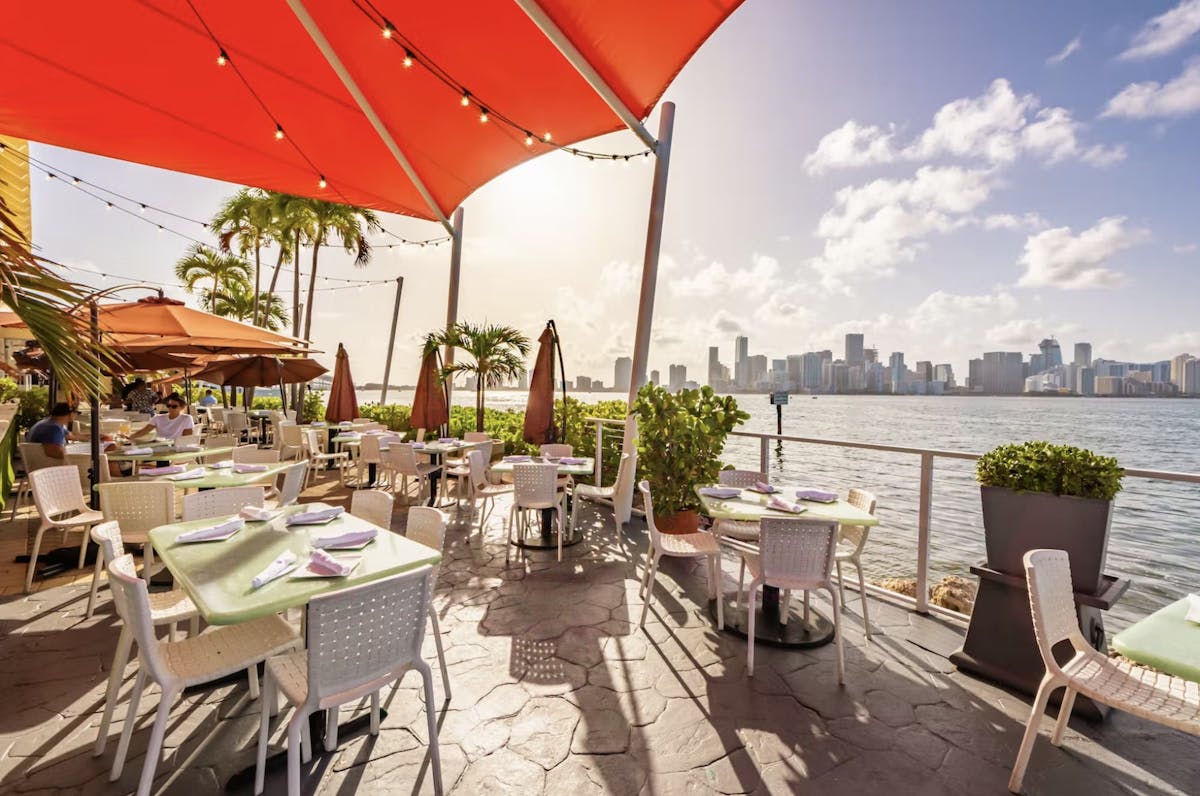 Miami, a city that foodies from all around the globe love, is home to some of the best restaurants in South Florida. Since there are many delicious places to enjoy a meal, nothing quite compares to dining in Miami restaurants on the water.
The Rusty Pelican is one of Miami's most popular waterfront restaurants, and it's not hard to see why. The establishment offers stunning views of the glittering waters of Biscayne Bay and an extensive seafood and American classics menu. Whether you're looking for a light lunch or a romantic dinner, The Rusty Pelican is sure to please.
Dining at Rusty Pelican Miami
Talk of state-of-the-art decor, a great menu, and of course, the outstanding view of Biscayne Bay; The Rusty Pelican is an iconic South Florida dining experience.
The menu offers something for everyone searching for American classics such as the Maine Lobster Roll and the Crab Cake. If you are looking for something a little lighter, there are plenty of salads and seafood options to choose from. And, of course, no meal at The Rusty Pelican would be complete without one of their famous drinks and desserts.
The decor at The Rusty Pelican is just as impressive as the food. The restaurant features a modern and sleek design, with windows that offer stunning views of the water. Whether you're dining inside or out, you're sure to enjoy the relaxed and sophisticated atmosphere at The Rusty Pelican. You can enjoy watching the sunset over the water as you dine in this luxurious restaurant.
Fresh Seafood Menu
If you think the views at The Rusty Pelican are stunning, wait until you see their fresh seafood menu. With items like the Florida Stone Crab Claws, Seabass and the Snapper, it's no wonder this place is a popular spot for seafood lovers.
Brunch
The a la carte Brunch at Rusty Pelican Miami on Saturdays starting at 11 a.m., and Sundays starting at 10 a.m., is one of the best in town. The menu features an array of American and seafood classics, including their famous lobster and eggs benedict, french toast and fried chicken and waffle.
For those looking to indulge, there's also a bottomless mimosa option available. And if you're not in the mood for alcohol, the restaurant also offers a delicious selection of freshly squeezed juices.
Lunch
Lunch is usually served from 12 pm-4 pm: Monday-Friday. There are endless possibilities when it comes to the lunch menu at The Rusty Pelican. You can choose from a variety of soups, salads, sandwiches, and seafood. Whatever tweaks your tastebuds, you're sure to find something to love at this waterfront restaurant. Whether you're looking to order our Snapper Ceviche, Biscayne Burger, or our deliciously trendy Deco Maki sushi, we have something for all your moods; both surf and turf alike!
Dinner
The dinner menu is available from 5pm-10pm: Sunday-Thursday, and 5pm-11pm: Friday & Saturday. Whether you're in the mood for a light meal or a hearty feast, there is everything for everyone!
Happy Hour
What better way to enjoy watching the sunset than with a few drinks in hand? The Rusty Pelican offers a great happy hour from 4 pm to 6:30 pm in the Lounge, Monday through Thursday.
Seafood Takeout & Delivery in Miami
If you're not in the mood to dine out, The Rusty Pelican also offers seafood takeout and delivery. You can enjoy the same great food in the comfort of your own home or office. The ordering process is seamless, and the delivery is always on time.
Private Events on the Miami Waterfront
Rusty Pelican is one of Miami's most popular waterfront restaurants, perfect for private events. The staff is attentive and accommodating, and the food is sure to impress your guests. Not to mention the stunning views of the water that make this place so special.
Whether you're planning a corporate event, a wedding, or a birthday party, The Rusty Pelican is the place to be. We have six private event places, including;
Please contact us to learn more about our private event spaces and book your event.
Enjoy Fresh Seafood on the Miami Waterfront Today!
No matter what you're in the mood for, The Rusty Pelican, Miami, is sure to have something that will tantalize your taste buds. With its stunning views, great food, and modern decor, it's no wonder that this restaurant is one of the most loved in this beautiful city! So, what are you waiting for? Come on down and enjoy the best waterfront dining in South Florida.